2015 Graduate Student Research Day
Congratulations to the winners of the poster competition:
Winning posters from the Graduate Student Category:
• First Place: Ghadeer Dawwas, Department of Pharmaceutical Outcomes and Policy
Poster title: "Type II diabetes and related risk factors: analysis at the state levels in the United State"
• Second Place: Douglas M. Benion, Department of Physiology and Functional Genomics
Poster title: "Human serum ACE2 activity in ischemic stroke: a moving target for translational treatment"
• Third place: Mohamed Solayman, Department of Pharmacotherapy and Translational Research
Poster title: "Association of plasma micro-RNA with antihypertensive response to beta blockers"
Winning poster from the Undergraduate Student Category:
• Alex Dang, Department of Physiology and Functional Genomics
Poster title: "Neuroprotection in ischemic stroke by activation of angiotensin II type 2 receptors: an innovative approach"
Pictures of the winners and 2015 GSRD can be found at: https://www.facebook.com/media/set/?set=oa.1091059627578527&type=1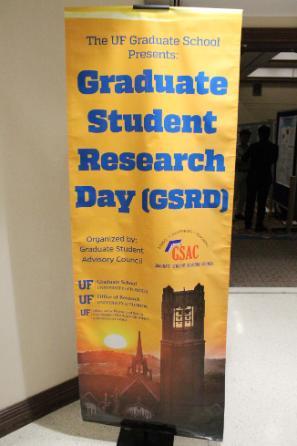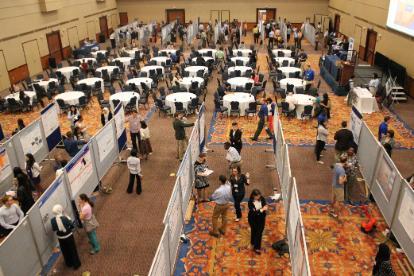 Theme of the Day: RESEARCH
Date: OCTOBER 27th, 2015 (Tuesday)
Location: Reitz Union Grand Ballroom
Graduate Student Research Day is an annual event featuring research from graduate students in all disciplines. It features posters from hundreds of students, panel discussion, and professional development workshops.
The event is open to all graduate students. We encourage undergraduate students participating in research activities to attend the event. The event is also open to all postdoctoral fellows/associates, researchers and faculty.
This year's Graduate Student Research Day is themed around RESEARCH.
Graduate Student Research Day will feature a Poster Contest with monetary awards given to the highest-scoring posters. A team of faculty, staff, community members, and graduate students will judge the posters during the Poster Session on October 27th, 2015. Participation in the poster contest is optional; you may submit an abstract for a poster without entering the contest.
President Fuchs will be speaking during the lunchtime session on his vision to establish UF as a national leader and a voice for higher education.
Our afternoon panel, "What I Wish I Knew," will feature senior doctoral students across various disciplines at UF. These advanced students will be able to talk about their earlier years of graduate school, how they maintained a positive work/life balance, the resources they found helpful and available to them, among other pertinent topics.
Click the logo of any of our sponsors to visit their website